UTRONIX
Elektronikutveckling AB
www.utronix.se www.atecaircraft.se
<![if !supportLineBreakNewLine]>
<![endif]>
Telephone:
+46 13 212 750

Telefax:
+46 13 212 725

e-mail: info@utronix.se

Address:
Landeryd Tallhöjden
585 93 Linköping
SWEDEN


You can send an
order/message/question to us here!

Comments and suggestions would be much appreciated.

Updated 2019-11-25.
© UTRONIX 2019.


Control via the web with IP-SwitchBox:


IP-SwitchBox800 has 8 outlets for max 16A/230V.

IP-SwitchBox810 has 8 dual pole
changing over relays for max 30V/2A.


IP-SwitchBox1616 has 16 opto
coupled inputs and 16 relay outputs.
Controlled by any web browser, http.

Connects

to Ethernet, TP.

IP address and port is configurable.

Embedded reset-timer for connected equipment.

Configurable

switch-on

delays

.

8+1

configurable

usernames

/

passwords

.

Remote controlled se

rial

port via Telnet or web browser.

Optional basic/digest/no authorization.

Configurable read/write rights for the users.

Can also be controlled by RS232.

Made

in Sweden.

The browser looks like
this when controlling
IP-SwitchBox800.
The outlets are controlled individually.
Choose to have the outlets immediately changed or changed when clicking on update.

<![if !vml]><![endif]>

With IP-SwitchBox You can control, for example, computers and modems.
Then You can do hard reset on them remotely. You can of course control other equipments well, for example measurement systems or test arrangements.
And You can control it from anywhere in the world!

You connect to the outlets with common mains plugs, easily accessible from the front. The power inlet is on the back.

The web page for reset looks like this.
When You push reset the outlets is turned of for a period of time and the automatically turned on again.
Here is 10 second reset made on outlet 5.

<![if !vml]><![endif]>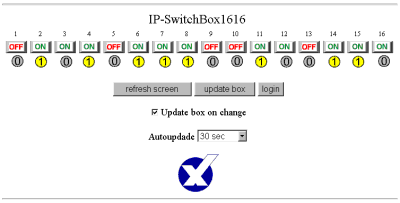 The web page for inputs and outputs with IP-SwitchBox1616 looks like this.
The buttons at the top is for controlling the relays.
The circles below indicates the inputs.
For more information download PDF files:

Users guide for IP-SwitchPlug801.
Users guide for IP-SwitchBox1616.
Users guide for IP-SwitchBox800.
Users guide for IP-SwitchBox902.

Users guide for SwitchPlug232USB.
How to control IP-SwitchBox800 from your own programs can be found in the manuals.
Do You already have an IP-SwitchBox? Then please give us feedback! What can we do better?